2011 - Royal Castle Friends
ITEM #: 37436 Orig. Retail: $ 14.99


Twilight Sparkle was released in her third pose in the Royal Castle Friends collector set. She came with Princess Celestia and Spike the dragon.
Product Information
PRINCESS CELESTIA invites TWILIGHT SPARKLE and SPIKE THE DRAGON to the royal castle to give them an important job to do! Their mission is to learn all about the magic of friendship with the ponies of PONYVILLE!
It's going to be a royally good pony time with the ROYAL CASTLE FRIENDS set! Your PRINCESS CELESTIA pony figure is regal and amazing, with a tiara and collar to wear and wings. She'll have wonderful pony adventures with your beautiful TWILIGHT SPARKLE pony figure and adorable SPIKE THE DRAGON dragon figure! With these friends at your side, the fun never has to end!
Includes 2 pony figures, dragon figure and accessories.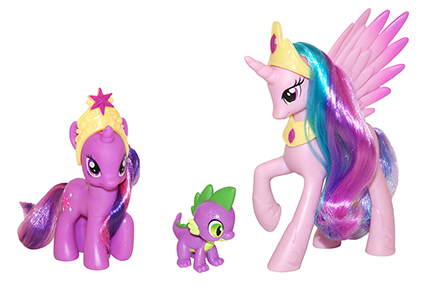 2012 - Bridle Friends
ITEM #: A0014 Orig. Retail: $ 9.99


Product Information
Its time to celebrate the royal wedding of PRINCESS CADANCE and SHINING ARMOR! TWILIGHT SPARKLE promises to make the wedding even more magical with the help of a few spells!

No one brings more excitement to a happy event than your TWILIGHT SPARKLE figure! She cant wait to celebrate with you. Help her into her fancy outfit and arrange her hair just right. Theres a magical adventure in store for you, and your TWILIGHT SPARKLE pony is the perfect friend to share it.

Wedding pony figure comes with accessories.
2012 - Around Town Playset
ITEM #: Orig. Retail: $ 39.99


Twilight Sparkle III was released again in 2012 with the Special Edition "Around Town" Friendship Express Train. She came with Rainbow Dash, and Apple Bloom II.
Product Information
All aboard the Friendship Express Train Around Town set! The train rolls along, around the bends and over the bridges, and takes your Rainbow Dash, Twilight Sparkle and Apple Bloom pony figures wherever they want to go.
Set up the 10-piece track and put the motorised engine at the front, then connect the 2 cars at the back. You can add other My Little Pony train cars (sold separately) to the train. Stop the train at the pop-up train station, where the 4 animal friends can get on board. Then every passenger can present tickets and get "treats" for the ride! The fun on the Friendship Express Train Around Town set never ends!
Includes Rainbow Dash, Twilight Sparkle and Apple Bloom, motorised engine, 2 train cars, 4 animal friends and accessories.