2011 - Celebration at Canterlot Castle
ITEM #: Orig. Retail: $ 19.99


Twilight Sparkle II was released in 2011 in the Celebration at Canterlot Castle accessory set with Starbeam Twinkle.
She has Shine Bright characteristics. Her horn lights up when you push the button on her back. Her legs are poseable and she also has a removable saddle.
Canterlot products are Target Exclusive.
Product Information
Canterlot™ is the royal city in Equestria™ and home to Princess Celestia™. The princess lives in a magical castle. Every pony dreams of visiting Canterlot!

Get ready for a magically fun time at CANTERLOT CASTLE, where your pony friends can have tea parties! Style your ponies' hair with the included comb and barrettes, and then put the beautiful tiaras on their heads! Serve the ""cake"" and set out the tea things for the party. TWILIGHT SPARKLE™ and STARBEAM TWINKLE™ pony figures are included, and your TWILIGHT SPARKLE pony's horn actually lights up! You'll find so many ways to play and have pony parties at CANTERLOT CASTLE!

Includes 2 pony figures, cake on pedestal, cake slice, layer cake, tea cart, tea pot, sugar bowl, creamer, tea tray, 2 tea cups and saucers, table with balloon, punch bowl, ladle, 2 cups, present, wand, 2 tiaras, comb, 4 barrettes, chest and dresser with mirror.
Includes 2 button-cell batteries.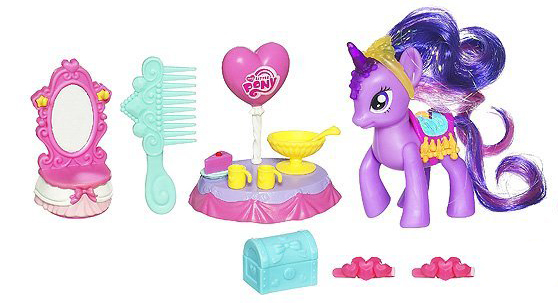 Accessory Variations
This set came with accessory Color Variations.