Her cutie mark is a shamrocks.

Serendipity
2004 - Glitter
ITEM #: 55481 Orig. Retail: $ 4.99


Serendipity was first released in 2004 as a single in the Glitter Assortment. Glitter ponies have tinsel in their hair.
She sometimes came with 30 bonus stickers.

Product Information
SERENDIPITY just loves to search for treasures—including four-leaf clovers. Somehow this lucky pony always manages to find a pot of gold at the end of every rainbow!
Brush and style her beautiful hair!
Includes pony figure and brush.
This product carries 2 MY LITTLE PONY Points!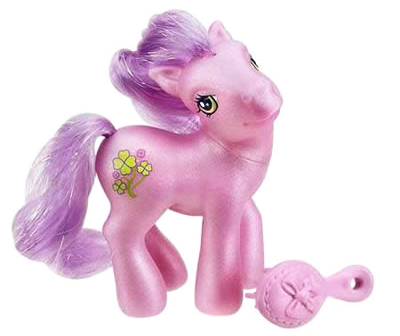 2005 - Sharing Tea
ITEM #: 60611 Orig. Retail: $ 6.99


Serendipity was released again in 2005 in the Sharing Tea accessory set. She came with tea party accessories.
Compared to the original single release, the green of her symbol is darker and brighter. Her symbol is slightly turned clockwise.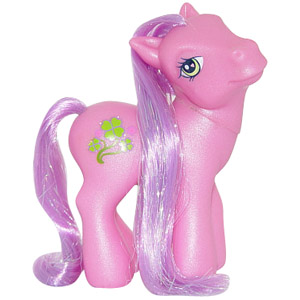 Product Information
Could there be a more pleasing pastime than an afternoon social with one of your best friends? This pretty pony tea party comes complete with sets of cups and plates that are just the right size for both you! Have a fun, fashionable afternoon. . . pony-style!
Fun matching accessories with this pony friend are just the right size for you both!
Pony figure comes with 2 large cups, 2 large plates, 2 small cups with plates, teapot, creamer and brush.
This product carries 3 MY LITTLE PONY Points!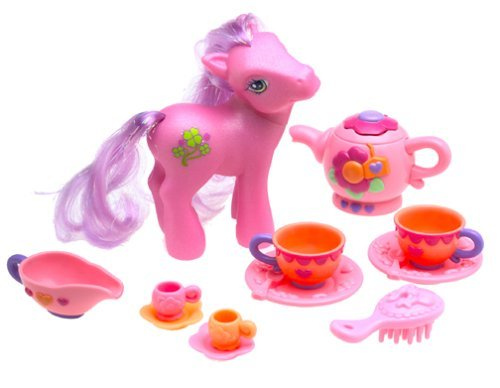 Rel
No.

Release
Year

Release
Name

Store or Country Exclusive

Serendipity

1

2004

Glitter Pony

Serendipity

2

2004

Glitter pony bonus 30 stickers

Serendipity

3

2005

Sharing Tea
DISCLAIMER: This website is for informational purposes only and is intended to assist the Pony Collecting Community. Some images on this site are property of Hasbro and have been borrowed for non-profit use. Other images have been donated by various contributors. Please do not use them without permission. This site is not affiliated with Hasbro, Inc. My Little Pony, its characters, names, and their distinctive likenesses are trademarks of Hasbro, Inc. All Rights Reserved Worldwide.