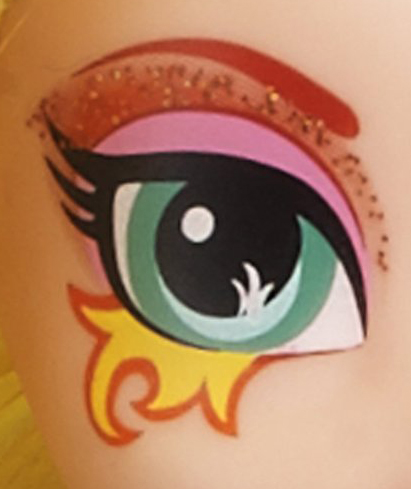 Sunset Shimmer has dark green eyes with a flame symbol, pink eyeliner and red glitter eyeshadow. She has a flame design on her cheek.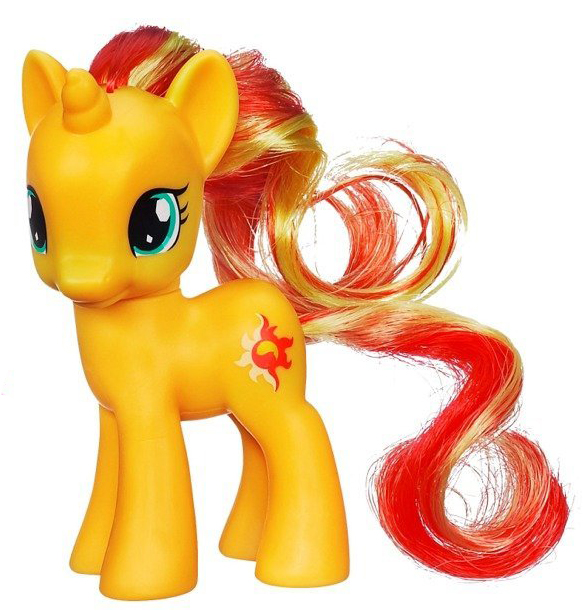 Equestria Girls Sunset Shimmer is the human form of G4 Sunset Shimmer.
Sunset Shimmer
2013 - 2-pack
ITEM #: A3997 Orig. Retail: $ 29.99


Sunset Shimmer was released in 2013 as an Equestria Girls doll in a 2-pack with Twilight Sparkle.
Product Information
There's a reason we look familiar, we're Equestria Girls!  A magic mirror connects the world of My Little Pony to Canterlot High, where some things change, but true friendships remain magical! With this 2 doll set Sunset Shimmer stole Twilight Sparkles crown!  Now the only way she can get it back is by going up against her for Fall Formal Princess!  Twilight Sparkle thinks she can win Fall Formal Princess over Sunset Shimmer. But Sunset Shimmer thinks she is going to rule the school once she gets the crown.  Its up to you who will win and who will rule the school?  Dolls approximately 9" tall.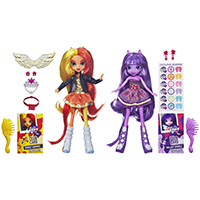 DISCLAIMER: This website is for informational purposes only and is intended to assist the Pony Collecting Community. Some images on this site are property of Hasbro and have been borrowed for non-profit use. Other images have been donated by various contributors. Please do not use them without permission. This site is not affiliated with Hasbro, Inc. My Little Pony, its characters, names, and their distinctive likenesses are trademarks of Hasbro, Inc. All Rights Reserved Worldwide.