Her cutie mark is a star wand with ribbon.

Ribbon Wishes
2005 - Dazzle Bright
ITEM #: 60481 Orig. Retail: $ 4.99


Ribbon Wishes was released in 2005 as a single in the Dazzle Bright Assortment.

Product Information
Where's RIBBON WISHES? Sitting under a palm tree, making beautiful seashell jewelry! She shines the shells then strings them onto colorful ribbons. Today she's making starfish earrings for everyone at the beach!

This DAZZLE BRIGHT Pony is special because she's got a dazzling CUTIE MARK design that sparkles like the pretty sand on the shores of BUTTERFLY ISLAND!
Dazzling pony comes with sparkling CUTIE MARK design!
Pony comes with brush.
Pony's foot contains magnet.
This product carries 2 MY LITTLE PONY Points! 
2005 - Butterfly Island bonus Ponies
ITEM #: Orig. Retail: $


Ribbon Wishes was released again in 2005 with the Butterfly Island playset with Honolu-loo and bonus ponies Waterfire and Surf Star.
Toys R Us exclusive.

Product Information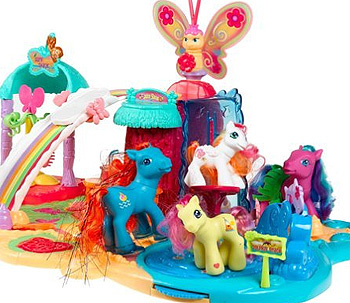 Rel
No.

Release
Year

Release
Name

Store or Country Exclusive

Ribbon Wishes

1

2005

Dazzle Bright

Ribbon Wishes

2

2005

Butterfly Island Adventure w/ bonus Waterfire, Surf Star, Ribbon Wishes
Toys R Us
symbol size
DISCLAIMER: This website is for informational purposes only and is intended to assist the Pony Collecting Community. Some images on this site are property of Hasbro and have been borrowed for non-profit use. Other images have been donated by various contributors. Please do not use them without permission. This site is not affiliated with Hasbro, Inc. My Little Pony, its characters, names, and their distinctive likenesses are trademarks of Hasbro, Inc. All Rights Reserved Worldwide.