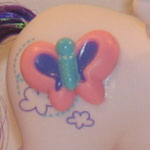 Her cutie mark is a ...

Cloud Climber

2005 - Dream Design
ITEM #: 61011 Orig. Retail: $ 4.99


Product Information
CLOUD CLIMBER likes to leap so high she can even jump over the rainbow! Once she's back on the ground, her favorite treat is a big bowl of chocolate ice cream — with rainbow sprinkles!

This unique Pegasus pony is sure to catch your eye! She's got a three-dimensional CUTIE MARK design that really stands out!
Special Pegasus pony has raised CUTIE MARK design that really stands out!
Pony figure comes with brush.
Pony's foot contains magnet.

Rel
No.

Release
Year

Release
Name

Store or Country Exclusive

Cloud Climber

1

2005

Dream Design
DISCLAIMER: This website is for informational purposes only and is intended to assist the Pony Collecting Community. Some images on this site are property of Hasbro and have been borrowed for non-profit use. Other images have been donated by various contributors. Please do not use them without permission. This site is not affiliated with Hasbro, Inc. My Little Pony, its characters, names, and their distinctive likenesses are trademarks of Hasbro, Inc. All Rights Reserved Worldwide.