Movies
My Little Pony: A Charming Birthday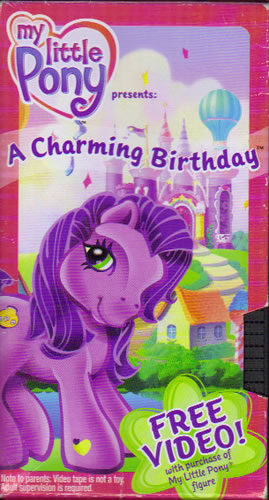 The A Charming Birthday video was first available in the US as a bonus with Rainbow/Glitter ponies sold in 2003. It was also available through the points program. It was not sold on its own, but instead was packaged with some of the early G3s.
From the Video Package: "Birthdays are big in the world of My Little Pony, and everyone gets in on the fun! And nothing's more exciting than a surprise except a really, really big surprise. But that's the trouble. It's Kimono's birthday and it's really hard to surprise the wisest pony in all of Ponyville. In fact, nobody's ever done it! But Razzaroo, Minty, and all of their friends are sure going to try!"
Characters Featured: Razzaroo, Minty, Rainbow Dash, Wysteria, Sweetberry, Sunny Daze, Kimono, Pinkie Pie, Sparkleworks, and Cotton Candy.
Non-speaking Characters Featured:Autumn Skye, Spring Fever, Candy Cane, Snowflake
My Little Pony: Dancing in the Clouds (VHS)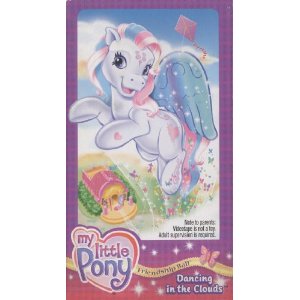 (2004)- This was a VHS packaged along the first Pegasus pony of the G3 line, Star Catcher.
Characters Featured:Skywishes, Twinkle Twirl, Fizzy Pop, Coconut Cream, Scooter Sprite, Desert Rose, Loop-De-La, Forsythia, Gem Blossom, Valenshy, Starbeam, Seaspray, Star Catcher
My Little Pony: Dancing in the Clouds (Storybook & DVD)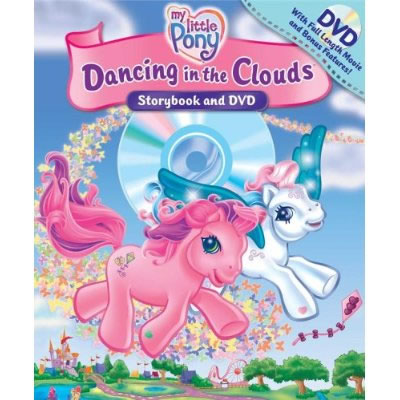 Product Description
Twinkle Twirl has to choreograph a special dance for the Friendship Ball, and she's completely uninspired! She asks Sky Wishes to make an extra-special wish so that she can come up with a great idea. Little do the ponies know that a wish-granting Pegasus pony, Star Catcher, has heard about this wish and is going to make it come true. Little girls will love this innovative book and DVD set staring all their favourite pony characters. The DVD contains the full-length Dancing in the Clouds movie.
My Little Pony: Friends Are Never Far Away
(2005)- A DVD that was packaged with a new Pegasus named Hidden Treasure.
My Little Pony: A Very Minty Christmas
((October 25, 2005)- The first video sold by itself, was available in both VHS and DVD. It included "Dancing in the Clouds" as a bonus episode.
Was re-released in October 2008 with a bonus Minty toy.
Description
Everyone in Ponyville is preparing for Christmas with lots of decorating and celebrating. On Christmas Eve, all the ponies gather to put the Here Comes Christmas Candy Cane -- a glowing symbol to help Santa find Ponyville -- on the top of the biggest tree. When the revelers disperse, Minty the (very clumsy) Pony decides it's not quite straight and adjusts it ... until it falls and breaks. She tries to tell the other ponies, but everyone's too busy to listen. So Minty tries to find a way to save Christmas all by herself. ~ description from Common Sense Media
Movie Details
Studio: Paramount Pictures, Director: Victor Dal Chele
Run time: 66 minutes
Theatrical release: 1/1/2005, DVD release: 10/21/2008
MPAA Rating: G
Amazon.com - Editorial Review
The true meaning of Christmas is not found in packages or a visit from Santa, but in friendship and genuine concern for others. In "A Very Minty Christmas," Minty accidentally breaks the glowing "here comes Christmas candy cane" that traditionally leads Santa through the clouds to Ponyville. Horrified that she has ruined Christmas for the entire village, Minty embarks on a perilous journey to the North Pole. Along the way, she learns the value of true friendship and discovers that simply giving of oneself can ensure a great Christmas for everyone. In "Dancing in the Clouds," Twinkle Twirl and her friend Sky Wishes strive to create an extra special dance for the friendship ball. Thanks to a little help from Star Catcher, the two friends harness the power of friendship to create a beautiful dance and a very special memory. (Ages 3 to 7) --Tami Horiuchi
My Little Pony: The Princess Promenade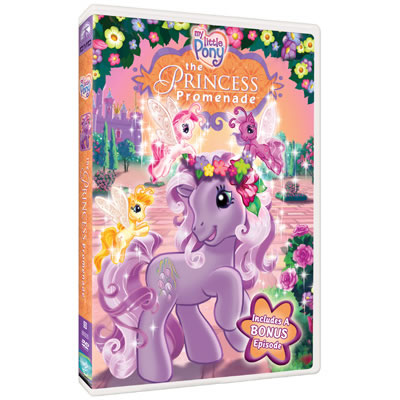 (February 7, 2006)- Featured the debut of a re-design of Spike the dragon, who originally featured in G1 (this makes Spike the only character in the franchise to appear in both the G1 and G3 cartoons). It also included Breezies—small, fairy-like ponies. It was available on VHS and DVD and included "A Charming Birthday" as a bonus episode.
My Little Pony: The Runaway Rainbow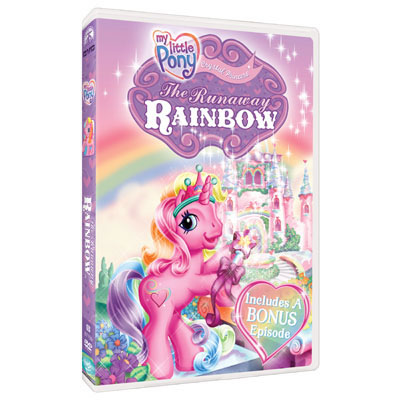 (September 12, 2006)- Featured the new G3 unicorn, Rarity, as well as Spike and the Breezies. This, and future releases, was only released on DVD. It included "Friends Are Never Far Away" as a bonus episode.
My Little Pony: A Very Pony Place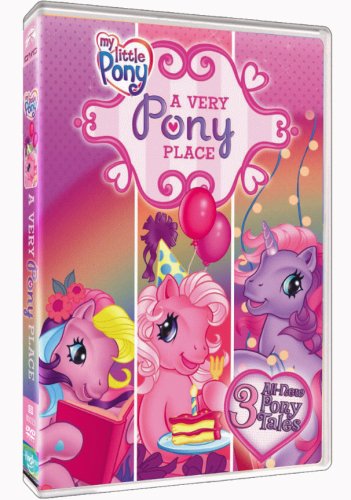 (February 6, 2007)- 3 All-New Pony Tales which include: "Come Back, Lily Lightly", "Two For the Sky", and "Positively Pink".
Product Description
My Little Pony: A Very Pony Place brings 3 ALL-NEW adventures from your favorite pony friends and introduces some new ones too! In "Two for the Sky" we meet our newest pony friend Storybelle who shows how magical books and friendship can be! In "Comeback Lily Lightly" Lily must overcome her fear that she won't be accepted in Ponyville just because she's different. And in "Positively Pink" Ponyville is celebrating a special birthday party for Pinkie Pie, in what color of course, Pink! See what the magic of friendship and adventure can do in the all-new My Little Pony: A Very Pony Place.
My Little Pony Live: The World's Biggest Tea Party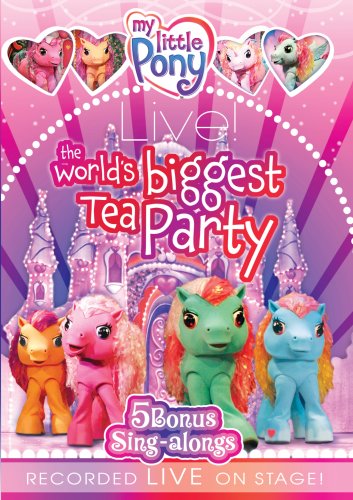 (2008)
Description
The My Little Pony pals are looking for something to do and end up deciding they want to do everything fun at once. The only way to do that is to have a big party -- THE WORLD'S BIGGEST TEA PARTY to be exact. Everyone offers to pitch in to make it a success, and kids in the audience get out their cardboard tea cups and sing "I'm a Little Teapot" together in anticipation. But not everyone is focused on helping with the party. Rarity (voiced by Cathy Weseluck) is too busy having fun at first to remember the streamers, and Pinkie Pie (Janyse Jaud) forgets the most important thing on the menu. Can the audience and a little magic help her find some tea? ~ description from Common Sense Media
Movie Details
Studio: Hasbro, Director: David Stern
Run time: 65 minutes
Theatrical release: 9/12/2008, DVD release: 9/12/2008
MPAA Rating: NR
Release Date: 16 September 2008 (USA)
This review of My Little Pony Live: The World's Biggest Tea Party was written by Carrie R. Wheadon
Parents need to know that this recording of a stage show is especially geared toward kids ages 2-5 and fans of the toys. A few positive messages about working together and how it's OK to make mistakes are hidden in the plethora of songs. Parents may also notice that the lyrics of one popular disco tune are changed from "shake your booty" to "shake your cutie."
My Little Pony: Pinkie Pie's Special Day
(2008)- Packaged in a set of the same name with Pinkie Pie in an outfit resembling the one worn in the episode.
My Little Pony: Rainbow Dash 's Special Day
(2009)- Packaged in a set of the same name with Rainbow Dash in an outfit resembling the one worn in the episode.
My Little Pony: Starsong and the Magic Dance Shoes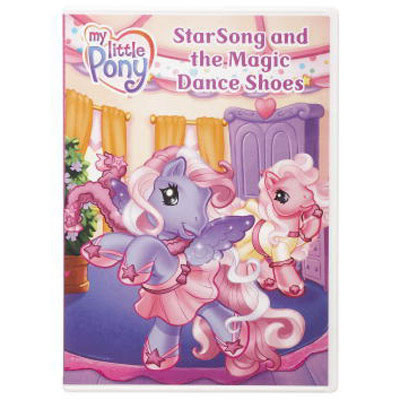 My Little Pony: Meet The Ponies
(2008)-This DVD has several short My Little Pony mini-episodes on it that were first avalible online. If you went to mylittlepony.com you could watch streaming versions of these videos.
My Little Pony:Twinkle Wish Adventure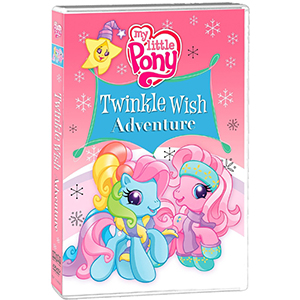 Product Description
All the ponies cannot wait for the Winter Wishes festival where the Wishing Star grants each pony one special wish. But when the Wishing Star disappears, they go on a journey to find it. During their adventure, they learn what it means for wishes to really come true! But will they make it back in time for the festival? Join Pinkie Pie and all her pony friends on their journey as they discover that friendship can make wishes come true.

Detailed Description
The pony friends are excited about the upcoming Winter Wishes Festival. That's when the magical Wishing Star will awake and grant each pony in Ponyville a special wish. To prepare for the festival, the friends make tree ornaments. After accidentally leaving one friend out of the ornament-making party, they all join together to help the left-out friend make a very special ornament, which ends up winning the competition. The mayor asks the winner to watch over the Wishing Star's sleeping box until the festival begins, but when a jealous friend has trouble waiting, the star is swept away by a dragon. The friends join together and fly off in a hot air balloon to find the star. They meet a young, lonely dragon who has taken the star in hopes of attracting friends who will want to play with it as a toy. The pony friends teach the dragon about friendship and eventually the star makes it back to the festival in time, and the ponies realize that they can make their own wishes come true. ~ description from Common Sense Media

Bonus Features:

Six Sing-Alongs:

* My Little Pony Theme song
* The Thing-A-Ma-Do Song
* Dreams Do Come True
* Somewhere Super New
* Thats What Makes A Friend
* A Wonderful Winter Song

Waiting For The Winter Wishes Festival - A prequel

Elefun and Friends - A new animated short

Four Downloadable Activites:

* Coloring Sheet
* Pony Note to Santa
* How to Make a Snowman
* Cut out Pony Ornaments
Characters:
Cheerilee
Starsong
Sweetie Belle
Scootaloo
Pinkie Pie
Toola-Roola
Rainbow Dash
Flitter Flutter
Seaspray
Apple Spice
Cotton Candy
Desert Rose (pink)
Daisyjo
Cupcake