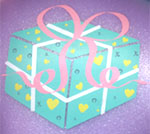 Her cutie mark is an aqua green present with white and pink ribbons and yellow heart print.

Razzaroo
2003 - Birthday Celebration
ITEM #: 60201 Orig. Retail: $9.99


Razzaroo was released in 2003 with the Birthday Celebration accessory set.

Product Information
RAZZAROO can hardly believe her special day is finally here: it's her birthday! Tonight all her friends are coming over for a big party, and she can't wait! She's making a list of all the fun treats she wants for her party…it's sure to be a blast!
Surprise RAZZAROO with a present that reveals sweet treats and candy! Use the comb to make special birthday hair-dos!
When RAZZAROO touches the birthday cake, it plays "Happy Birthday!"
Playset includes RAZZAROO pony figure, birthday cake with candle, 4 slices of cake, 4 forks, gift box, comb, charm and friendship ribbon.
Includes 2 "AAA" batteries.
This product carries 4 MY LITTLE PONY Points!
2004 - Birthday Celebration
ITEM #: 60201 Orig. Retail: $9.99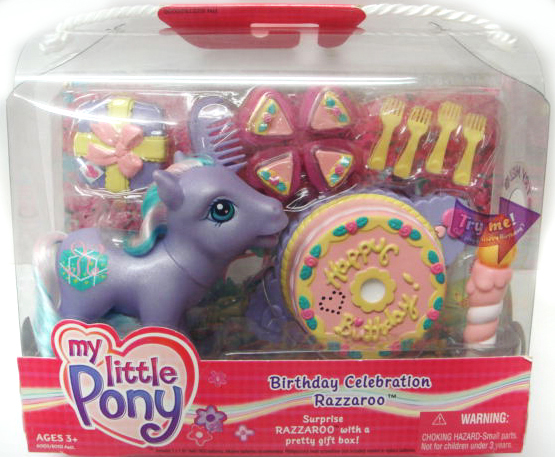 click image to enlarge

Product Information
no charm, different packaging
Rel
No.

Release
Year

Release
Name

Store or Country Exclusive

Razzaroo

1

2003

Birthday Celebration w/ charm
can have misplaced hoof heart

Razzaroo

2

2004

Birthday Celebration
no charm
DISCLAIMER: This website is for informational purposes only and is intended to assist the Pony Collecting Community. Some images on this site are property of Hasbro and have been borrowed for non-profit use. Other images have been donated by various contributors. Please do not use them without permission. This site is not affiliated with Hasbro, Inc. My Little Pony, its characters, names, and their distinctive likenesses are trademarks of Hasbro, Inc. All Rights Reserved Worldwide.