2005 - Spring Basket
ITEM #: 60864 Orig. Retail: $ 14.99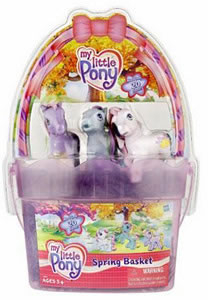 click image to enlarge
Product Information
LULABELLE, DAINTY DAISY and SPRING BREEZE Ponies just love to have something to celebrate, and the arrival of spring is just the thing! This special basket has everything you need to join in the fun. There's even a flower table… when a pony touches it, a spring blossom pops up!
• Springtime playset features lots of fun accessories, including a "magic" flower table with a pop-up flower!
• Comes with bracelet with three pony charms, just for you to wear!
• Playset includes 3 pony figures, flower table, picnic table, three pieces of cake, three forks, three cups, three saucers, bracelet, three charms and brush.
This product carries 6 MY LITTLE PONY Points!