Hidden Treasure
200? - Release
ITEM #: 61222 Orig. Retail: $ 9.99


Product Information
Pony legend says that magical, mysterious Pegasus ponies are the greatest wish-granters of all. If you wish for something hard enough, a Pegasus pony just might appear… and help you discover the power to make your dreams come true!

While gliding along the beach, HIDDEN TREASURE found a beautiful old treasure chest filled with sparkling jewels. Even though they're very nice gems, she knows her real treasure in life is her friends!

HIDDEN TREASURE comes with pretty accessories you can use to style her gorgeous hair, and a "magical" treasure chest that really opens when she touches it! Also included is an exclusive MY LITTLE PONY DVD adventure: FRIENDS ARE NEVER FAR AWAY!
Pegasus pony comes with a treasure chest that "magically" opens when she touches it!
Includes exclusive DVD pony adventure: FRIENDS ARE NEVER FAR AWAY™!
Pony figure comes with treasure chest, necklace, tiara, flower hair accessory, pony ring, butterfly barrette with ribbons and brush.
Ages 3 & up.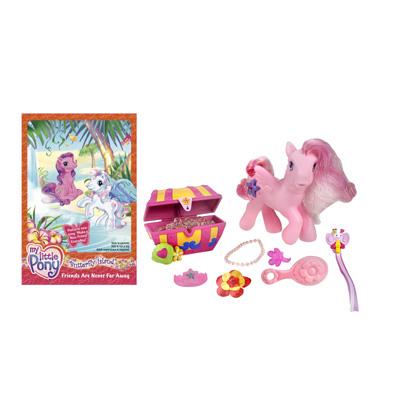 Rel
No.

Release
Year

Release
Name

Store or Country Exclusive

Name

1

200?
DISCLAIMER: This website is for informational purposes only and is intended to assist the Pony Collecting Community. Some images on this site are property of Hasbro and have been borrowed for non-profit use. Other images have been donated by various contributors. Please do not use them without permission. This site is not affiliated with Hasbro, Inc. My Little Pony, its characters, names, and their distinctive likenesses are trademarks of Hasbro, Inc. All Rights Reserved Worldwide.