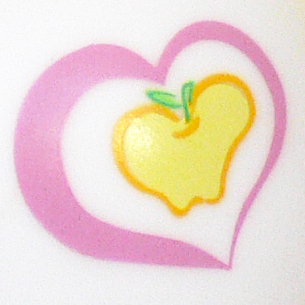 Her cutie mark is a golden apple inside a heart.

Golden Delicious
2004 - Limited Edition Numbered Pony
ITEM #: Orig. Retail: $


Golden Delicious was released in 2004 as a Limited Edition Numbered Pony.

Product Information
Before new ponies were released to the general public, a few ponies were available through an Ebay seller called WorldinAdvance. These ponies boxes were numbered with foil stickers stating they were one of the "First 50" of their kind to be produced. These ponies are sometimes referred to as the "First 50". The ponies themselves are no different than the ponies released to the general public, however ponies still MIB with these stickers sell for higher than ponies that are not numbered. As opposed to ponies sold this way in 2003, these ponies did not come with a certificate.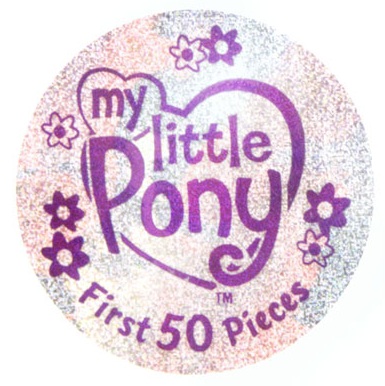 2004 - Perfectly Pony
ITEM #: 60415 Orig. Retail: $ 4.99


Product Information
GOLDEN DELICIOUS loves anything made from apples—apple pie, apple dumplings, fresh apple cider… mmm, it's all so good! She's really good at picking apples, too, but it takes her a long time to fill her basket, because she eats them as soon as she picks them! She has lots to do today in PONYVILLE … won't you come along for the fun?
Includes pony figure and brush.
This product carries 2 MY LITTLE PONY Points!
2004 - Build-a-Pony
ITEM #: Orig. Retail: $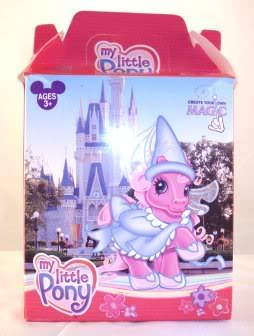 click image to enlarge

Build-a-Pony was a section of a single store (Once Upon a Toy) in Downtown Disney, in Disney World in Orlando, Florida. As of October, 2010, the Build a Pony feature was permanently closed.

This section of the store was made up similarly to a candy store, with different columns and bins of accessories, as well as a few loose ponies (Cinnamon Breeze, Piccolo, Golden Delicious, Spring Parade)

Many of the accessories are Disney-based, featuring Disney princesses and other Disney-related items.

These are not available anywhere else in the world.

Customers paid for a small cardboard box, and whatever they can fit in it from the selection.. (info from www.MustBeJewel.com)

Product Information
2005 - Seaside Celebration
ITEM #: 56385 Orig. Retail: $ 6.99


Product Information
Welcome to BUTTERFLY ISLAND! In this tropical paradise, the sun is brighter, the sky is bluer and it feels like magic is in the air! From morning to night, the ponies are having fun and meeting new friends - like the magical Pegasus ponies that soar through the sky! At BUTTERFLY ISLAND, anything can happen, and new adventures are always just around the corner!

After a quiet seaside morning, GOLDEN DELICIOUS is ready for adventure in her cute little sundress. She and her turtle friend are heading to the water to ride some waves!

This pretty pony is totally ready for a seaside celebration! She comes with pretty hair beads and even a cute little tropical turtle friend! They can ride the waves together on her boogie board that really attaches to her foot!

• Special pony comes with everything she needs for a tropical beach party… even a new little friend!
• Pony figure comes with sundress, 3 hair beads, flower hair accessory, boogie board, flying disc, turtle and brush.

This product carries 3 MY LITTLE PONY Points!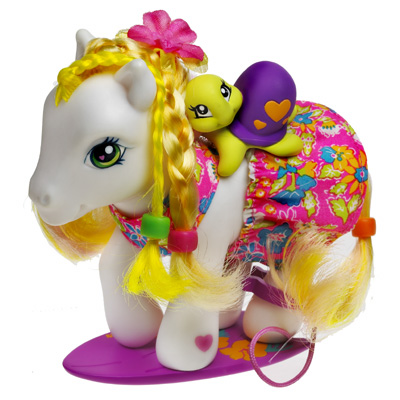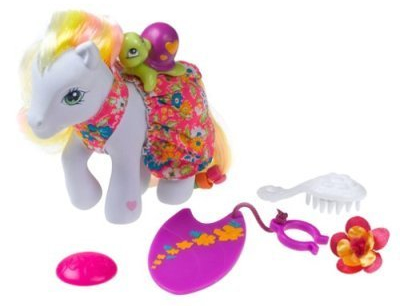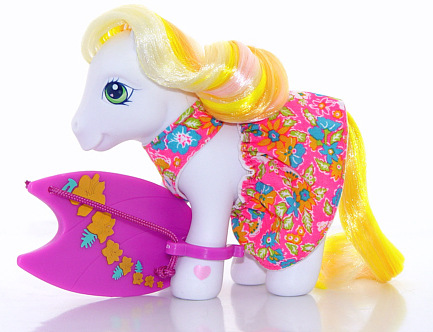 2005 - 3-pack Scootin Along, Seaside Celebration, Perfectly Pony
ITEM #: Orig. Retail: $


Golden Delicious was released again in 2005 in a value pack with Scootin Along Bumbleberry and Twilight Twinkle.
This value pack was a Costco exclusive.

Product Information