Her cutie mark is a pink rose on a green stem with leaves.

Desert Rose
2006 - Crystal Slipper Princess
ITEM #: 61645 Orig. Retail: $ 9.99


Product Information
When DESERT ROSE isn't busy handing out beautiful bouquets to her friends, you can find her in front of her vanity, playing princess! Simply place DESERT ROSE on the vanity and watch the mirror "magically" spin to reveal her lovely reflection. You'll have fun helping her pick out which dazzling accessories to try on next!
Pretty pony comes with her own dressing table and an assortment of accessories, so she can play princess! When pony touches the vanity, the mirror "magically" spins! 
Includes DESERT ROSE pony figure, vanity with spinning mirror, dress, pair of earrings, barrette, four "crystal" slippers, necklace, tiara, comb and two bonus jewels.
Pony's foot contains magnet.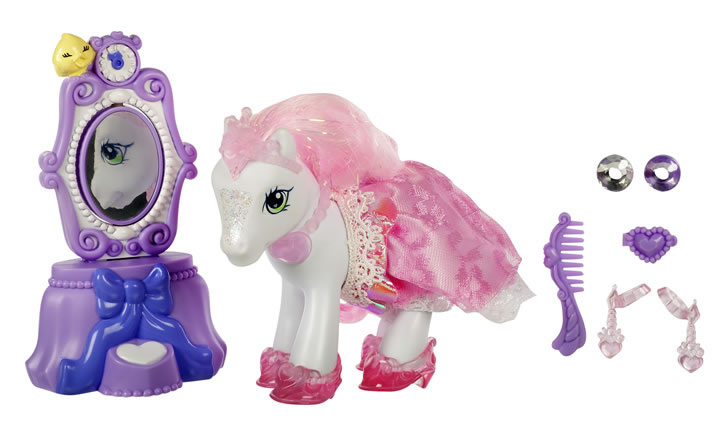 Packaging Information
Some International releases were packaged without jewels.

Rel
No.

Release
Year

Release
Name

Store or Country Exclusive

Desert Rose

1

2004

Sparkle

Desert Rose

2

2006

Crystal Slipper Princess
modified mould, head turns, white eyes, regular hoor heart
DISCLAIMER: This website is for informational purposes only and is intended to assist the Pony Collecting Community. Some images on this site are property of Hasbro and have been borrowed for non-profit use. Other images have been donated by various contributors. Please do not use them without permission. This site is not affiliated with Hasbro, Inc. My Little Pony, its characters, names, and their distinctive likenesses are trademarks of Hasbro, Inc. All Rights Reserved Worldwide.