Her cutie mark is a basket of daisies.

Dainty Daisy
2005 - Spring Basket
ITEM #: 60864 Orig. Retail: $ 14.99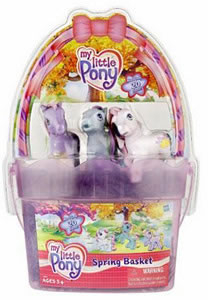 click image to enlarge

Product Information
LULABELLE, DAINTY DAISY and SPRING BREEZE Ponies just love to have something to celebrate, and the arrival of spring is just the thing! This special basket has everything you need to join in the fun. There's even a flower table… when a pony touches it, a spring blossom pops up!

• Springtime playset features lots of fun accessories, including a "magic" flower table with a pop-up flower!
• Comes with bracelet with three pony charms, just for you to wear!
• Playset includes 3 pony figures, flower table, picnic table, three pieces of cake, three forks, three cups, three saucers, bracelet, three charms and brush.

This product carries 6 MY LITTLE PONY Points!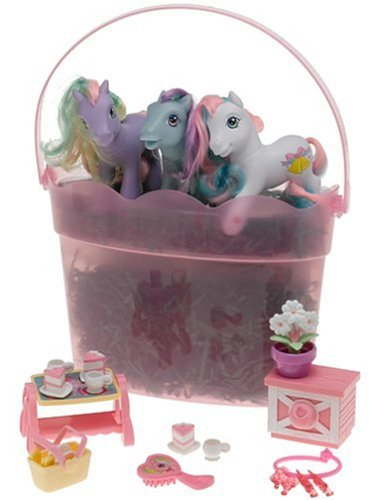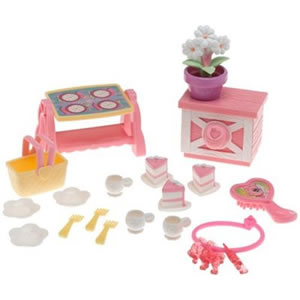 Rel
No.

Release
Year

Release
Name

Store or Country Exclusive

Dainty Daisy

1

2005

Spring Basket
DISCLAIMER: This website is for informational purposes only and is intended to assist the Pony Collecting Community. Some images on this site are property of Hasbro and have been borrowed for non-profit use. Other images have been donated by various contributors. Please do not use them without permission. This site is not affiliated with Hasbro, Inc. My Little Pony, its characters, names, and their distinctive likenesses are trademarks of Hasbro, Inc. All Rights Reserved Worldwide.