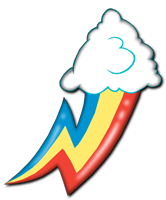 Her cutie mark is two seashells with coral.

Shell-Belle
2005 - Limited Edition NumberedPony
ITEM #: Orig. Retail: $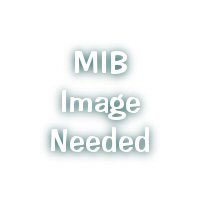 click image to enlarge
Shell-Belle was released in 2005 as a Limited Edition Numbered Pony.

Product Information
Before new ponies were released to the general public, a few ponies were available through an Ebay seller called WorldinAdvance. These ponies boxes were numbered with foil stickers stating they were one of the "First 50" of their kind to be produced. These ponies are sometimes referred to as the "First 50". The ponies themselves are no different than the ponies released to the general public, however ponies still MIB with these stickers sell for higher than ponies that are not numbered. As opposed to ponies sold this way in 2003, these ponies did not come with a certificate.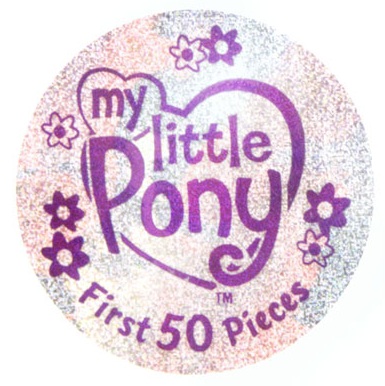 2005 - Shimmer Pony
ITEM #: 60464 Orig. Retail: $ 4.99


Shell-Belle was released in 2005 as a single in the Shimmer Pony Assortment.

Product Information
Today is an extra-special day! The sun is brighter, the sky is bluer and it feels like magic is in the air! The ponies have found lots of exciting new places in PONYVILLE, and they're about to discover the most magical place of all—BUTTERFLY ISLAND. Come join them on their exciting adventure!

SHELL-BELLE loves to spend hours along the shore, picking up the prettiest shells she can find. Don't ask her to pick a favorite, though, they're all too beautiful to choose from!

Every pony in PONYVILLE has beautiful hair, but this SHIMMER Pony has super-shiny, glittery hair you're going to love! It's so shiny, it seems to sparkle just like the sea around BUTTERFLY ISLAND!

Pony figure comes with brush.

This product carries 2 MY LITTLE PONY Points!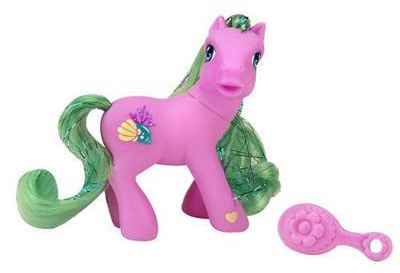 Rel
No.

Release
Year

Release
Name

Store or Country Exclusive

Shell-Belle

1

2005

Limited Edition Numbered Pony
WorldinAdvance

Shell-Belle

2

2005

Shimmer Pony
DISCLAIMER: This website is for informational purposes only and is intended to assist the Pony Collecting Community. Some images on this site are property of Hasbro and have been borrowed for non-profit use. Other images have been donated by various contributors. Please do not use them without permission. This site is not affiliated with Hasbro, Inc. My Little Pony, its characters, names, and their distinctive likenesses are trademarks of Hasbro, Inc. All Rights Reserved Worldwide.