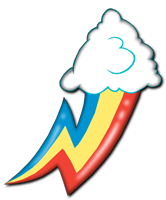 Her cutie mark is a trolley and reads "San Francisco 2006, My Little Pony Fair Collectors Convention".

Trolley
Trolley is a blue pony with red hair. Her hair has clear tinsel and she has glitter on her forehead. She was originally a Love Wishes pony that was customized for the Fair.
2006 - MLP Fair Exclusive
ITEM #: Orig. Retail: $


Trolley is a limited release pony that was released in 2006 for the My Little Pony Fair Collectors Convention that was held in San Francisco, California, USA.
She is considered a rare pony, even rarer than her sister pony, Frisco.

Product Information
Due to the fact that the first 150 Frisco ponies sold out in 11 hours the Fair Staff wanted to have a pony for attendees of the Fair. Originally 100 Trolleys were produced. The first set 1 through 100 was created and distributed at the Fair. A second set of 50 unnumbered were created and carded as Version 2.0.
(info from www.mlpfair.com)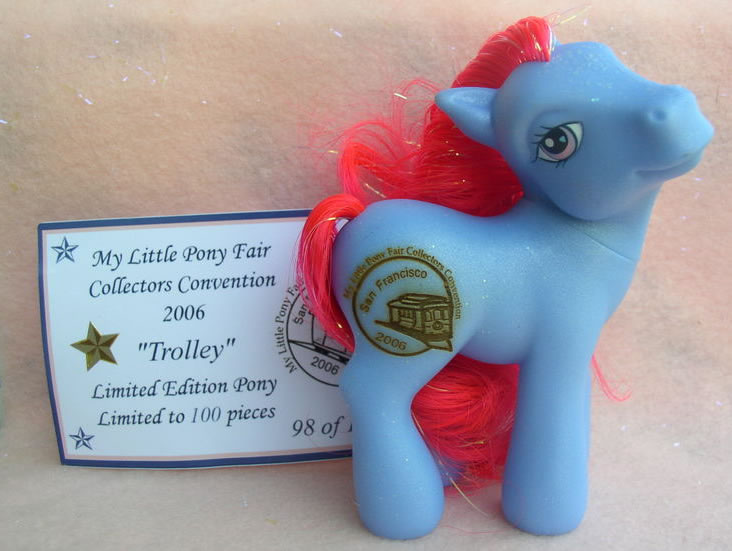 Rel
No.

Release
Year

Release
Name

Store or Country Exclusive

Trolley

1

2006

MLP Fair Exclusive
MLP Fair Exclusive
DISCLAIMER: This website is for informational purposes only and is intended to assist the Pony Collecting Community. Some images on this site are property of Hasbro and have been borrowed for non-profit use. Other images have been donated by various contributors. Please do not use them without permission. This site is not affiliated with Hasbro, Inc. My Little Pony, its characters, names, and their distinctive likenesses are trademarks of Hasbro, Inc. All Rights Reserved Worldwide.