Donate Pictures
Do you have pictures that you wish to share on this site? Please check out the list of needed pictures below and if your picture is used, I will definitely credit you and link to your webpage under the Contributors section of the site.
Picture Specifications
In order to keep the picture quality consistent on this site, please follow these guidelines when submitting photographs.
1) pictures must be in focus and not blurry
2) neutral background, preferably white
3) pony should be positioned so you can see her complete display side and picture should be taken straight on (not looking down at pony)
4) pony's symbol, eye, and hoof heart (if applicable) should be clearly visible
5) if pony has symbols or hoof heart on her non-display side, please also submit a picture of that side of the pony
6) no custom hairstyles
7) if pony came with accessories, please take one picture with no accessories, and one picture with her wearing accessories.
8) pictures should be taken in natural light (outside is best)
9) no flash
10) MIB items should have as little reflections in the plastic as possible
Here are samples of optimal submitted photos before editing. The second photo shows her hoof heart.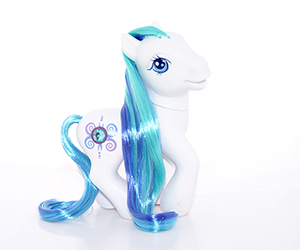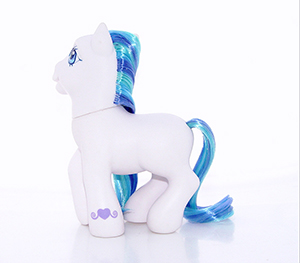 Pictures Needed
Please note, I do have all of these pics listed, however I am looking for upgraded pics. I am only looking for very clear pictures with the specifications above. Please contact me if you can help with any of the following pictures.
Loose Pics
Angel Dove
April Mist
August Gladiolus
Aurora Mist
Art Pony - Pop (both sides)
Art Pony - Underwater (both sides)
Bashful Bonnet (without accessories)
Bay Breeze
Beach Belle (with hair maintained close to her for easy square cropping)
Bellaluna (darker version)
Blank Pony
Blushie
Bon Appetit
Boogie Woogie
Bright Night
Butterdrop
Candy Apple
Cheerilee (Styling pony)
Cheerilee #2
Cheerilee #2 II
Chocolate Chipper
Cloud Dancer (McD)
ComicCon Ninja (both sides)
ComicCon Superhero (both sides)
ComicCon Villian (both sides)
ComicCon Pony Power (both sides)
ComicCon 2011 (both sides)
Daisy Paisley
Dazzle Surprise
December Delight
Desert Palm
Dolly MIX prize ponies (all)
Fairy Dust
Fantastical February
Fluffaluff (breezie)
Fun Fairy
G1 Retro re-release (all)
Glitter Glide
Glitterbelle
Graceful Glimmer
Green Apple
Heart Bright
Hokey Pokey
Honeydew Hum (breezie)
Island Rainbow (light orange variant)
January Joy
Jolly Lolly (no accessories)
June Blossom
Lavendar Lake
Lovely Ladybug (no accessories)
Magic Marigold II
March Daffodil
March Mischeif
Marshmallow Coco (no accessories)
Meadow Moon (breezie)
Minty VII
Misty Mornings (so-soft - no accessories)
Mittens '07 (no accessories)
Morning Dawn Delight (no accessories)
Morning Glory
Northern Lights
November Nights
Ocean Dreamer
October Calendula
Paradise Island
Pearly Pie
Petite Petunia
Pinkie Pie V (3-d balloons)
Pinkie Pie VIII (no accessories)
Pumpkin Tart (no accessories)
Rainbow Bubbles (with hair maintained close to her for easy square cropping)
Rainbow Treat (with hair maintained close to her for easy square cropping)
Ribbons & Bows
Rosey Posey
Royal Beauty SLH (with hair maintained close to her for easy square cropping)
Royal Bouquet II
Royal Rose
September Aster
Shell-Belle
Shimmer Shine (with dress removed)
Silly Lilly (breezie)
Silver Glow
Silver Lining (with hair maintained close to her for easy square cropping)
Silver Song (with hair maintained close to her for easy square cropping)
Skedoodle (no accessories)
Snippity-Snap
Snowdrop Swirl (with hair maintained close to her for easy square cropping)
Snow'El '07 (no accessories)
Soakey Dokey (so-soft)
Soda Float (no accessories)
Spring Parade
Star Catcher II
Star Flight
Star Surprise
Strawberry Swirl II (no accessories)
Sunny Daze (Book & Beauty Set)
Sunny Daze IV
Sunrise
Sunshine Parade (no accessories)
Sweet September
Sweet Sparkle
Sweet Steps (so-soft) (no accessories)
Toodleloo
Tulip Twinkle
Twinkle Hope
Twinkle Twirl III
Twirlerina
Winter Ice
MIB (Mint in Box/Bag) Pics
Birthflower Ponies (all)
Blue Mist
Boogie Woogie
Bumblesweet (with bonus stickers)
Butterdrop
Celebration Castle (with bonus Romperooni)
Citrus Sweetheart
Coconut Grove
Dazzle Surprise
Flower Flash (Musical Wishes Jewelry Box w/ Skywishes)
Forsythia (Playtime Cottage)
Frisco
Hokey Pokey
Lolligiggle
Misty Blue
Northern Lights
Peachie Keen
Pepperberry
Petite Petunia
Rainbow Dash II (Race through Ponyville Game Tin)
Rosey Posey
Royalette
Royal Ribbon
Sand Dollar
Snowdrop Swirl
Snowflake
Sparkleberry Swirl
Star Shimmer
Strawberry Sunset
Sunny Daze (Book & Beauty Set)
Sunny Daze II (Race through Ponyville Game Tin)
Sunshimmer
Summer Shores & Ocean Dreamer
Sweetberry
Tink-a-tink-a-too (Race through Ponyville Game Tin)
Wind Wisher
Winter Ice
Winter Snow
Yours Truly
Backcard Scans/Stories
Amberlocks II
Anchors Away
Angel Dove
Applejack (tea party)
Art Pony Black/Blue
Art Pony Pop
Art Pony Underwater
Autumn Crisp
Banjo Blue
Bay Breeze
Beach Belle
Bee Bop (Ponyville Picnic)
Bee Bop (Bloomin Blossoms Value Pack)
Bellaluna
Berries n' Cherries
Blossomforth II
Blossomforth III
Bon Appetit
Boogie Woogie
Bowtie (4pack)
Bowtie (Surf Shop)
Bright Night
Bubblecup
Bumbleberry
Bumblesweet II (w/ Hula Lula)
Bunches-o-fun (dress up)
Butterdrop
Butterscotch (Easter Egg)
Butterscotch (Super Sundaes)
Candy Apple
Caribbean Delight
Cheerilee #2 (several needed)
Cherry Blossom II (w/ bonus baby)
Cherry Blossom III (w/ breezie)
Cherry Blossom III (w/ garden accessories)
Chocolate Chipper

DISCLAIMER: This website is for informational purposes only and is intended to assist the Pony Collecting Community. Some images on this site are property of Hasbro and have been borrowed for non-profit use. Other images have been donated by various contributors. Please do not use them without permission. This site is not affiliated with Hasbro, Inc. My Little Pony, its characters, names, and their distinctive likenesses are trademarks of Hasbro, Inc. All Rights Reserved Worldwide.